The union of digital, biological, and physical innovations promises to fundamentally transform business models.
As they ride the curve of exponential transformation, leaders must never lose sight of the human element in technology.
The arrival of the Fourth Industrial Revolution – the union of digital, biological and physical innovations, sometimes abbreviated as 4IR – promises to fundamentally transform business models in all sectors of the economy. The companies which adopt new technologies are likely to be rewarded with improved productivity, greater cost effectiveness, and an increased capacity to react to changing conditions and situations with greater flexibility. 4IR is also expected to help provide technological solutions to climate change.
But this revolution is not without risks – such as the threat of mass unemployment – so business leaders must take steps to maximize the upsides while minimizing the downsides of 4IR, both for themselves and that of broader society.
The rise of new technologies in areas including artificial intelligence (AI), robotics, the Internet of Things (IoT), autonomous vehicles, 3D printing, nanotechnology, and quantum computing promise to transform various areas of business, with huge benefits. The coming together of these cutting-edge technologies is adding up to a revolution that's worth more than the sum of its parts.
Robotics and AI in particular will have huge implications for a range of industries such as healthcare, transport and logistics, customer service, and home maintenance. For example, BJC HealthCare, a healthcare service provider that operates 15 hospitals in Missouri and Illinois in the US, uses radio frequency identification (RFID) technology to track and manage thousands of medical supplies, saving an enormous amount of manual work.
But automation has moved well beyond the ability to carry out tasks and repetitive responsibilities. For instance, Airbus uses wearables to improve productivity and reduce the complexity of its cabin seat assembling process. The aerospace company designed a smart glasses app that shows the guidelines to the worker so that they can make the relevant marks on the floor faster and more accurately.
Riding the curve of exponential transformation
Those benefits mean it is critical that business leaders not only understand what 4IR entails, but also how it will shape their organizations for years to come. Based on the insights from my new book, Lift: Fostering the Leader in You Amid Revolutionary Global Change, I have developed an introductory list of issues to consider if you want to ride the curve of exponential transformation.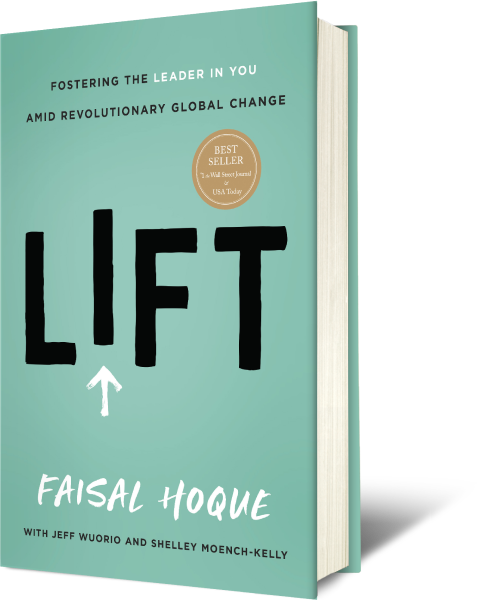 The first step is setting explicit goals. Given digital technology's far away and often fuzzy persona, the more you can be clear and on point, the less the mystery and anxiety people in your organization will experience. For example, if you're looking to achieve savings goals with labor-saving technologies, know where you will find those savings and how much you will save. Setting clear goals will inspire commitment to the adoption and implementation of game-changing technologies, which is often lacking in organizations because of unclear objectives.
That process of clarification must start at the top. Companies need to ensure the alignment and commitment of their leadership teams – two factors which will be critical to the success of the adoption of digital technology to increase value, called "digital transformation". To achieve this, leaders need to secure buy-in throughout the entire organization. One way to do that is to share what you personally are doing as part of the overall transformative effort. By "walking the talk", leaders can inspire the devotion of their employees.
Yet companies embarking on such a transformation must take care not to overload their people, or their systems. They should make the shift more comfortable for staff with systematic planning – a planning process that ensures objectivity of approach and acceptability of results. Businesses should also identify viable timeframes for the introduction of those new tools, as well as comprehensive training for employees using that technology.
Adjusting the hiring parameters
Moreover, companies will need to adjust their parameters when hiring new employees. Given the rate and reach of technological change, it's going to become increasingly difficult to find talent with past experience of new technology. And even if they do have that experience, it is likely to become quickly antiquated given how rapidly tech is evolving. The key is to look for new employees who possess the ability to learn, a willingness to be flexible, and other "softer" skills.
Despite its enormous possibilities and potential, 4IR is not without its risks and flaws. For instance, according to a 2017 University of Oxford study, developed nations can expect to see job loss rates of up to 47% within the next 25 years as machines displace humans – even though many such situations will involve technology assuming repetitive, mundane tasks.
In addition, there is a heightened and, in my view, justifiable concern over security and privacy. As technology continues to spread and mature, organizations will need to invest in and maintain the most rigorous security measures and protocols possible to avoid a cyber breach or privacy failure. Moreover, they'll also need to inform employees, customers, and others of what they're doing to ensure transparency.
But above all, they must recognize that 4IR is not a technological panacea. Leaders will need to take off the rose-colored glasses when gauging what this host of new technology can and cannot do.
Additionally, they should be aware that such technologies are not "plug and play", or ready to use immediately. That means patience and commitment will be essential. Leaders must view 4IR as a journey that has no ending. That is because new technologies are emerging like waves crashing on a beach; just as one reaches the shore and begins to settle back, yet another wave follows, creating its own impact.
So, when harnessing novel technology, leaders will need the time and persistence to learn how to use these new tools most effectively – and, at the same time, nurture the mindset and skills throughout the organization to fully embrace them. Leveraging the benefits while avoiding as many pitfalls as possible will mandate connected, comprehensive leadership that recognizes technological possibility while never losing sight of the human element.
Originally published @ I by IMD. 
Copyright (c) 2023 by Faisal Hoque. All rights reserved.