"If you are an entrepreneur, you have no choice but to go through a great deal struggle. That suffering pushes you toward mindfulness. You must ground yourself before you go totally crazy." — Faisal Hoque
BY ANJANA LOVE_DIXON | Nov 5, 2014 | Rebelle Society
This timely wisdom comes from the heart of an unlikely yet self-proclaimed student of life, Faisal Hoque, who is in the business of innovation and new ventures. Faisal is a serial entrepreneur from Bangladesh who, at seventeen years old, decided to leave Bangladesh to traverse Corporate America.
He studied science and engineering before dropping out in his senior year to enter the corporate world and start his entrepreneurial journey.
His burgeoning career started in product development, R&D, and corporate transformation has now evolved into much more.
He has alchemized many global brand names through his science and engineering expertise including Pitney Bowes, Dun & Bradstreet, and GE  and has been known for his business books, and writing for Fast Company, The Wall Street Journal, and Huffington Post. There is a great love in his heart, a fascination for connection, awareness, the human element.
"I am originally from Bangladesh, and when I was in High School, I did a lot of reading of texts that were written in Bengali, my native language. It is a derivative of Sanskrit. There were a lot of mindfulness, Buddhist, Sufi, and Hindu influences in what I was reading. When I came to the US at 17, I started on my journey, I overcame a lot of ups and downs, and entered the corporate world.

About five or six years ago, when I was in Japan, I took a detour, traveled through various parts of the country that tourists just don't visit. I ended up at a Buddhist Monastery and it triggered this whole internal transformation. I began to ask myself how I wanted to move forward in my next stage of life and what mattered to me. How could I ground myself?"
It was in this time that he began his next journey as an author.
"I started thinking about my next book, which at the time was 'Everything Connects'. Even though I have done primarily business writing, I never thought I would be an author. I always thought I was an entrepreneur, innovator… a field technology product developer. In the last few years, my writing has completely transformed into what I think and talk about now. I have a fascination for psychology, mindfulness, and the human journey."
Within the business aspect of entrepreneurship and corporate infrastructure, there has to be the development of the soul of the business in order for it to thrive.
Our world sorely needs to have corporations that are conscious of their long term effect on society, culture, and the health and well-being of the planet.
More and more, corporate leaders are awakening to their deep consciousness and are in a state of meaningful understanding that in order to make connections, products and develop relationships to sell their products, the human element has to be present.
The heart of the business leader and consumer must be opened; transparency is trust. This stream of consciousness eliminates the greed is good faulty business model of the twentieth-century, and opens the door to the age of creativity in a profound way.
"As a creative person, you have to deal with paradoxes. You have to put the effort into your work but the timing has to be right; you have to promote your work and still be humble. Only when I could ground myself in focusing on one thing at a time, enjoying that particular moment, I started to enjoy myself. Everything else is meaningless; living in the now is all that matters.

Then there is emotional struggle of when you try to rationalize and consolidate what it is you want to do against what makes you happy. What you do has an impact on other people and there is a fundamental struggle in that as well."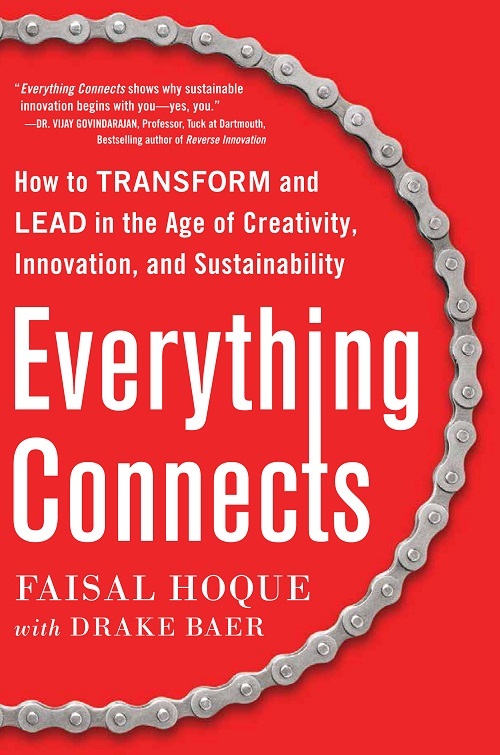 In his book Everything Connects [McGraw Hill], Faisal speaks of how leadership is directly influenced by the practice of mindfulness and how creativity stems from the deep center of the authentic self.
"The creative process is such that you have to ignite your ideas. But to be able to ignite ideas, you have to derive inspiration from yourself. If you are not grounded, self-aware and unobservant of that which is not so obvious, or experience a wide variety of things, you cannot ignite that idea.

Once you have that inspiration or idea, it is just an idea. It doesn't manifest until you make something out of it. When you want to manifest anything in reality, you have to work with other people. You cannot manifest by yourself. That also requires a creative process. Now you have inspired people with your ideas and they have rallied around you to make something happen.

You now have to lead a process that becomes something tangible. That is the essence of the creative process."
When I spoke with Hoque about his writing process, the conversation became deeply personal. We both concurred that writing was a sacred element that can bring about social, cultural, spiritual and political change, healing and opening minds of turbulent nations around the world and within ourselves.
"If more people wrote instead of carrying guns and grenades, the world would be a better place. When I write, it allows me to go to a space where I can craft my thoughts in a cohesive way. It is through writing where I constantly reaffirm my goals and my intentions. Writing is an affirmation that allows you to connect to the goals on your journey. I believe that the energy that you put out there comes back to you. I have been practicing being one with the universe through writing.

If you are going to write, someone is going to read your work. You are going to want your readers to connect to your thought process. It is a tool to structure your thought. Your creativity then becomes a consumable, digestible thing that other people can relate to."
The juxtaposition of Hoque's creative introspection allows him to be more productive in the workplace and stay grounded in his successes, seeing them as aspects of the journey of expansion.
"I have been all over science and engineering and still am very much a part of that world. But the other aspect, the human element, I find that more and more fascinating and am totally engrossed in it. If you see me with my team, you would notice that nothing else other than what is happening in the moment matters. That is how I escape from my struggles. Mindfulness is a tool that helps us survive. What you see in my writing is exactly how I am trying to live."
Faisal's methods to maintain full presence and master success:
* Work less hours = more productivity

* Avoid the news

* Discover tech balance: "I don't distract myself with every gadget on the market.
These things have enhanced the quality of his life.
Read the original article at Rebelle Society.
[Image: Flickr user Fe 108Aums]