Transformation Requires Much More Than Technology
DIGITAL. BUSINESS. MANAGEMENT
Given the rate of change that we have experienced and will continue to see in the world, it's a challenge trying to stay on top of everything. Organizations must consider revising and possibly scrapping decades-old habits, processes, and their very ways of thinking and operating. In so doing, organizations can literally reinvent themselves.
Transformation requires much more than simply obtaining the latest technology, plugging it in, and sitting back to watch reinvention take place. From top to bottom, organizations will be compelled to change entire mindsets, attitudes, and assumptions about how they operate, how they can grow, and even the very reason for their existence.
This book introduces readers to ideas, concepts, and a comprehensive framework (LIFTS — learn, investigate, formulate, take off, and study) that they can use to better position themselves and their organizations to reap the greatest number of benefits that business and digital transformation can afford. It's a journey rich with promise that explains complex concepts in an understandable common language.
REINVENT is the result of the author's personal and professional journey — one that is made possible by three decades of work with colleagues, customers, partners, academics, and industry experts from around the globe.
Acclaim For Reinvent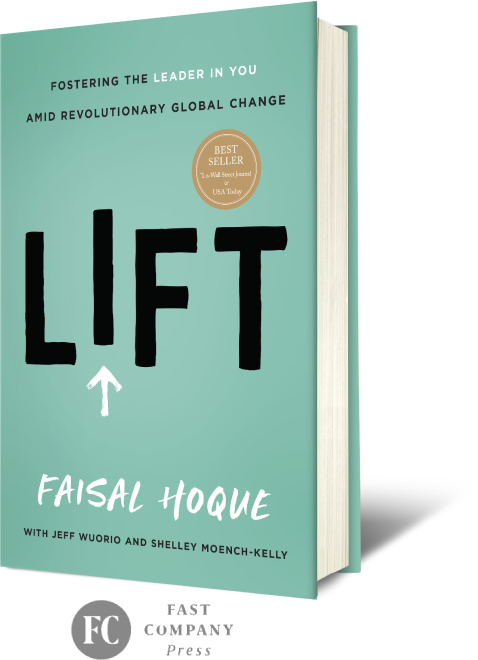 Transformational Leaders Leverage Positive Change
EMPATHY. KNOWLEDGE. EXECUTION
In a world of explosive change and transformation, leaders at all levels—from heads of state and global corporations to entrepreneurs and gig economists—will offer the best opportunity for leveraging change and transforming our lives for the better.
In Lift, Faisal Hoque—noted thought leader; serial entrepreneur; technology innovator; advisor to CEOs, BODs, and the US federal government; and author—offers a timely and much needed perspective on individual and organizational leadership.
This thought-provoking book invites readers to explore the intersection of transformational leadership, systemic thinking, and experiential learning—all required to survive and thrive the tsunami of changes and disruptions caused by the Fourth Industrial Revolution, the Covid-19 pandemic, climate change, and misinformation trends.
Hoque proposes that "transformational" leaders—those who focus on people and long-term innovations and solutions—are the key to a prosperous future. In Lift, he shows readers how to become transformational leaders in an ever-changing world through a convergence of empathy, execution, and knowledge.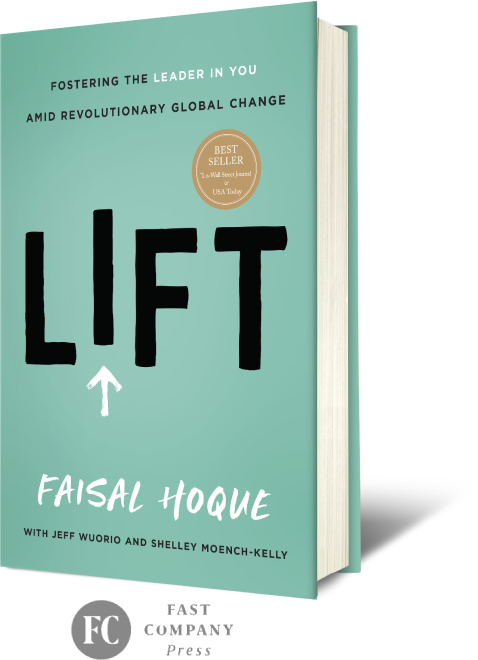 Audio books are available wherever audio books are sold.
Acclaim For Lift
A HOLISTIC APPROACH TO CREATING LONG-TERM VALUE
MINDFULNESS. CREATIVITY. INNOVATION
Part philosophy, part business, and part history, in Everything Connects, you'll learn from the wisdom of 2500 year old Eastern philosophies and the interconnected insights of Leonardo da Vinci. Couple that with Fortune 100 corporate cross pollination for creativity and startup thinking for how to adapt with ease, and you have Everything Connects.
The constant cascade of new technologies and social changes are creating a more empowered population. Workforces are increasingly dispersed, demanding of self-expression, and quite possibly disengaged. Within this topsy-turvy context, leaders must spark creativity, drive innovation, and ensure sustainability. This isn't just a quick fix for your next financial quarter; this is how you succeed in the long run.
Audio books are available wherever audio books are sold.
Acclaim For Everything Connects
From The Archives
Looking for more? Visit Faisal's Amazon Author Page for more of his previously published books.
27 Practices for resilient Entrepreneurs, innovators, and leaders
Resilience is the universal human capacity to face, overcome, and even be strengthened by experiences of adversity. The book is divided into three sections, each of which are key concepts in the development of one's own ability to bend, and not break, in the face of a personal or professional setback.
This book offers powerful approaches to diffuse strong emotion in the moment of crisis, and opens up opportunities for re-examining your personal definition of success. The book illuminates how anyone can attain the resilience that's required to repeatedly push forward in the face of conflict. The authors do not endorse or denounce any specific individual, company, product or service that may be referenced in the stories.